Known for its dark skies, Tupper Lake has become a well-known and much-admired stargazing destination. In fact, it's some of the best night sky viewing in the northeast! Thanks to a lack of light pollution, the area's skies stay dark, letting the wonders of the night sky truly shine. The community here loves celebrating astronomy and has focused on keeping light pollution to an absolute minimum. So whether you're new to stargazing, or you're a dedicated observer, you'll love the magic of Tupper's skies.
Adirondack Sky Center & Observatory
The dark skies and community involvement made Tupper Lake the ideal home for the ever-growing Adirondack Sky Center & Observatory, which offers free public programming, including stargazing parties, lectures, and special events. The Sky Center operates a roll-off roof observatory near Little Wolf Beach. Several telescopes on site and regular Friday night stargazing sessions (weather permitting) led by knowledgeable volunteers make for great opportunities to learn, see, and explore! The Observatory also has an office, classrooms, and gift shop downtown. Be sure to stop in during the daytime to pick up souvenirs, guidebooks, and activities for stargazers of all ages. Even a quick visit will provide you with invaluable information about stargazing in the area! The observatory's Facebook page is also a great resource for astronomy news and events.
Excellent stargazing locations
Throughout and around town there are several spots that we have found to be especially good for spending time under the starry sky.
A fun hike at less than one mile up, Coney is known for its rock faced summit. Here you have uninterrupted, 360 degree views, making it an amazing spot to view the night sky.
(also known as the Route 30 causeway). Easily accessible, with plenty of room to park off the road, the causeway is a wide-open spot great for looking up! 
One of the last scenic pull off spots on Route 30 before hitting Bog River Falls, Rock Island Bay provides tons of views of Tupper Lake. This is a great place to pull off and see the stars reflecting off the water. 
By boat!
Take to the water in your canoe, kayak, SUP, or motorboat and enjoy the serene scene of millions of stars reflecting on the water around you.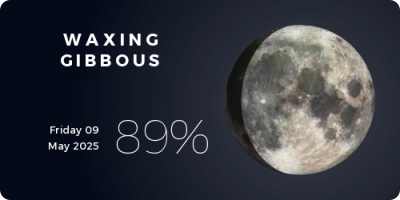 Don't forget about the moon! Whether you want to photograph a full moon or enjoy the dark skies of the new moon, learning more about our only satellite is a must!
Total solar eclipse viewing in 2024
A solar eclipse is an extraordinary event, when the moon, earth, and sun line up in such a way that the moon temporarily blocks our view of the sun. At that moment, portions of the earth are literally in the shadow of the moon and safe viewing offers a glimpse at the stunning solar corona. In the Adirondacks, a total solar eclipse, when the moon completely covers the sun, is a pretty rare occurrence. On April 8, 2024, Tupper Lake will be in that sweet spot to experience the total eclipse! For just over three and a half minutes, anyone in the area will be able to enjoy the eclipse, provided they do so safely!
Stay tuned for more information and special events as the date approaches.
More stargazing inspiration
As you set out to explore the sky, why not explore some of our stargazing blogs, too? They're full of useful info about where to go, what you might see this year, and more!
Keep Looking Up: Stargazing in 2021
Stargazing Opportunities in Tupper Lake
Wish Upon a Star in Tupper Lake
Infinite Wonder: Stargazing and photographing the night sky