Header Image
Body
One of the things that makes me the happiest in the whole world is going on a picnic. I love them so much that my husband Chris knew he needed to incorporate a picnic when he proposed to me on an island in Saranac Lake. There are infinite spots to enjoy a good old-fashioned picnic, whether dining at picnic tables in a park, sitting by a pond or river, or on top of a mountain. To make choosing a little easier, here is a list of the top 5 places to have a picnic in Tupper Lake.
1. Tupper Lake Municipal Park
On the shores of Raquette Pond lies Tupper Lake Municipal Park, an expansive green space right in the heart of Tupper Lake. There are picnic tables, public restrooms, a gazebo, and a pavilion, so there are numerous options to choose from. For food, there are two awesome food trucks; Dos Loco Gringos serves mouthwatering Mexican food, and PorkBusters BBQ will have you salivating the moment you catch its intoxicating scent. You can find Dos Los Gringos from Wednesday to Friday, starting at 11 am until the food is gone. PorkBusters BBQ is open from Friday to Tuesday between 11:30 am and 6:00 pm. Don't forget to take advantage of the Summer Sunset Concert Series on Monday and Wednesday nights at 7 pm for free outdoor entertainment with sunset views. The first concert of the season kicks off on July 23, with shows continuing every Monday and Wednesday until August 23.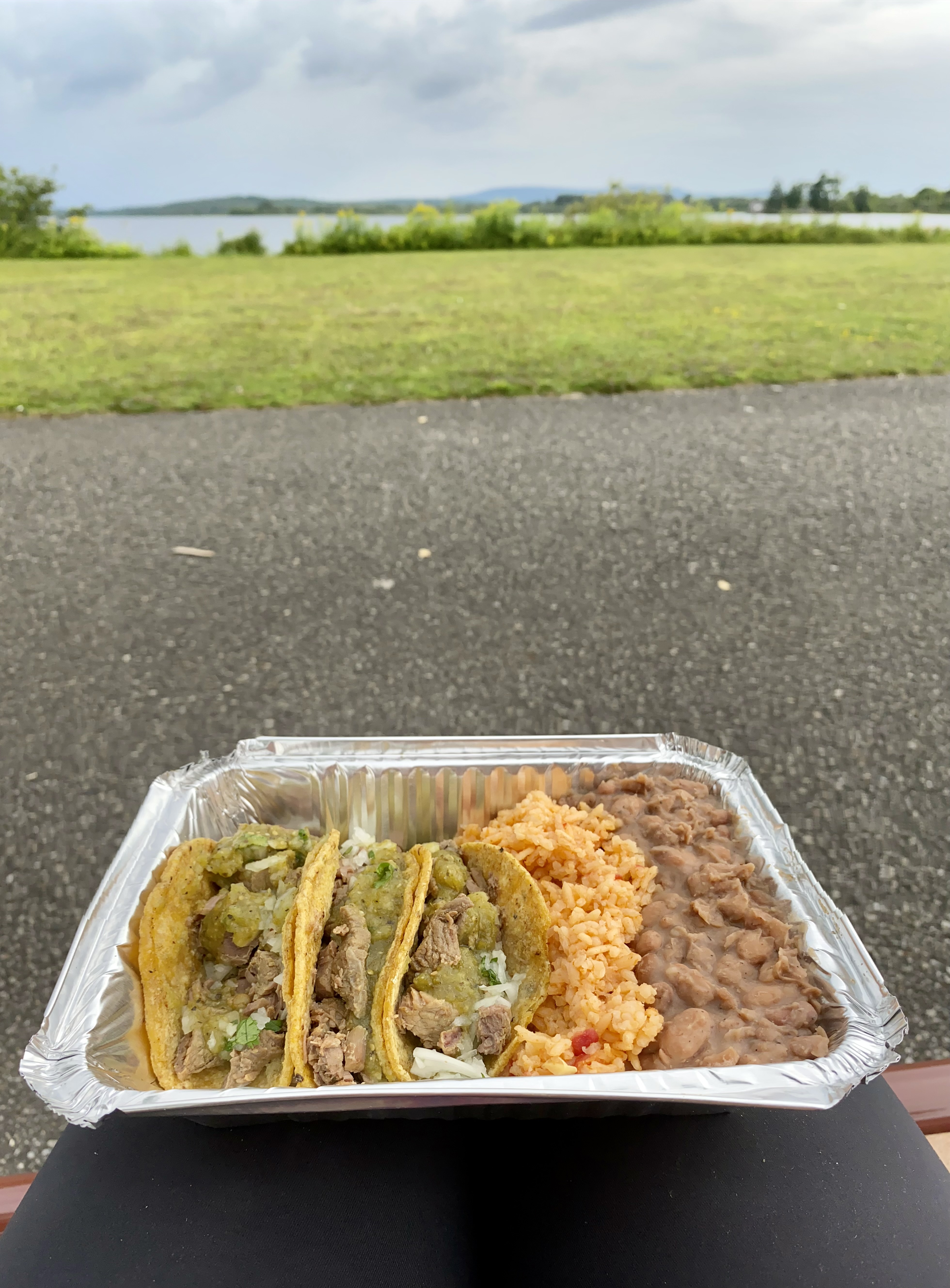 2. Little Wolf Beach
Enjoy some fresh air at Little Wolf Beach, a 400-acre lake with one of the longest beaches in the Adirondacks. This quaint beach is only a few miles from downtown Tupper Lake and provides a picturesque backdrop for a leisurely outdoor meal while the gentle lapping of the waves adds to the ambiance. With ample space for families and friends to spread out, the beach offers the perfect spot to savor delicious food, enjoy a swim, and bask in the beauty of nature. The Snack Bar offers guests a variety of snacks and drinks, but it's worth stocking up on picnic food before arriving.
3. Coney Mountain
Coney Mountain is a short 1.1-mile climb to a bald summit that offers panoramic views of the waters of Tupper Lake and the surrounding forest, creating a stunning backdrop for a memorable picnic. The trail is well-maintained and gently meanders around the mountain to the summit. Coney Mountain is part of the Tupper Lake Hiking Triad, a hiking challenge consisting of three family-friendly mountains. Whether you're seeking a quiet escape or a memorable family outing, Coney Mountain is an excellent choice for a picnic adventure.
4. Bog River Falls
Just a few miles south of Tupper Lake, the Bog River pours into the southern tip of Big Tupper Lake at Bog River Falls. You will know you are in the right place when you see a beautiful stone bridge. A series of herd paths on both sides of the falls offers the adventurous an opportunity to view the waterfall from different vantage points. With the melody of the falls as your soundtrack, a picnic on the large flat rocks adjacent to Bog River Falls is sure to be a memorable and rejuvenating adventure.
5. John Dillon Park
A picnic at John Dillon Park in Tupper Lake, NY, is a truly extraordinary experience that combines the beauty of nature with accessibility for all. This unique park, 17 miles south of Tupper Lake, is specifically designed to accommodate individuals with disabilities, ensuring everyone can enjoy outdoor recreation. The picnic areas are thoughtfully designed, offering accessible picnic tables and grills, allowing everyone to gather comfortably and savor a delicious meal. The park's inclusive nature extends to its scenic trails, which are gentle, crusher-lined paths that can accommodate hikers and campers of all abilities and are wheelchair accessible. This unique facility was a dream of retired International Paper CEO and Paul Smith's College Alumnus John Dillon. His vision was to create a place where people from all walks of life could enjoy the beauty of the Adirondack landscape, regardless of their backgrounds or abilities.
Grab-and-go food options
Now that you know where to go on a picnic in Tupper Lake, you need to know where to find food. Tupper Lake has some fabulous grab-and-go options to simplify food preparations. For something sweet, head to Washboard Laundromat Donut Shop, a staple in Tupper Lake for over 25 years. These donuts are so light and fluffy it's hard to believe they are made in a laundromat. The crowd favorite, including myself, is the delectable maple bacon flavor. If you aren't in the mood for donuts, Spruce and Hemlock has a variety of baked goods, including their signature cinnamon rolls, along with a deli for a complete meal. Spruce and Hemlock also offers locally-made items that are one-of-a-kind, so this is your one-stop shop. Another classic bakery and deli is Larkin's Junction Depot, a family-owned business that has been in operation for over 20 years. Try their classic French Canadian meat pies, and grab a freshly baked muffin or sandwich to go on your next adventure! You don't have to compromise quality for convenience.